Tori Williams
21st February 2019
If you're a fan of "Batman: The Animated Series", then this movie will be a pleasant trip down memory lane. It's a throwback to the classic series's episode "Harlequinade", where Batman and Harley team up to find the Joker. This time, Batman (Kevin Conroy) needs Harley Quinn's (Melissa Raunch) help to locate Poison Ivy. To do this, he gives Nightwing (Loren Lester) the task of finding Harley, who is in the process of trying to turn over a new leaf.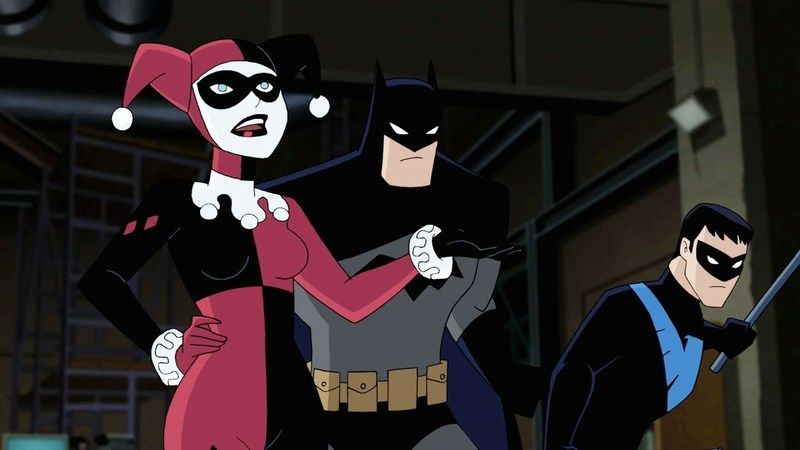 Harley Quinn is the main character in this film, while Batman and Nightwing have more of a supporting role. The movie is full of tongue-in-cheek moments from sex jokes to fart jokes. It's a bit campy, but it's to be expected for a Harley Quinn movie. The movie has all the same animation style of the old series with a stunning new color upgrade. All the old costumes we came to love are all back. Even the original voice of Batman is back. Its jammed pack with nostalgia.
The movie starts off at Star Labs where Poison Ivy (Paget Brewster) and Floronic Man (Kevin Michael Richards) are stealing data. They end up kidnapping bio-engineer Alec Holland to create a solution to turn everyone in the world into plants.
Batman goes to Star Labs to begin Nightwing's quest of finding Harley Quinn. After asking around town, he finds her at a diner where the ladies are all dressed as sexy versions of female superheroes and villains. We see Harley serving customers while dressed as a sexy version of herself. Nightwing then follows her back to her home.
After a brief fight that lands Nightwing unconscious, he wakes only to find out he is tied to the bed. After some bargaining and a sex scene, Harley finally agrees to help.
Road Trip Time!
The trio hits the road looking for Poison Ivy. They end up at a club full of old villains and antiheroes from the past, and they look up info on Poison Ivy's whereabouts while they are there. A guy named Shrubs makes Harley sing a punkish song on stage that is catchy enough to even make Batman tap his hands.
After gaining the info to find Ivy, a fight breaks out between Batman and the villains that extends to the outside of the place. The trio eventually reaches their destination and encounters Poison Ivy and Floronic Man. A fight breaks out that resulted in the building catching fire. The bio-engineer who was in a trance comes to while Ivy and Floronic Man are escaping.
Floronic Man stabs Alec (the bio-engineer) in the chest before finally escaping. Alec tells Batman and crew Poison Ivy's plan and how she and Floronic Man plan on executing it. He also tells them that they are heading to Alabama. Batman, Nightwing, and Poison Ivy all head to Alabama for the final showdown, in which a final cameo comes in (not going spoil who it is).
Overall:
Batman And Harley Quinn has a lot of jokes, where even the ending is a punchline. This movie has decent action and a decent story. It shows how Harley is sexualized but on her own accord. She has always used her sexuality as a strength.
In the diner, she tosses a guy who grabs her butt, showing that she is still in control. That was also proven when she seduced Nightwing.
This movie takes a huge step in removing the Joker from her life (seeing as he is only referenced once and not even by name) and taking control of herself and her body. Some reviews condemn her for being sexualized, but it's not a bad thing because she is in charge. Harley says what is and isn't okay for her personally. She is smart, talented, and attractive…all of which she uses to her advantage. It's a strength, not something to condemn.
Although the movie was fun, there were some scenes that could have been shaved down, and some that could have been removed and substituted a tiny bit more drama and action instead. Even though I enjoyed it, the ending could have been better.
I rate this movie 7 out of 10: For its charisma, story, and making fart jokes.